We carry all the most popular styles of shirts from the best manufacturers available. Our suppliers stand by their product, and we stand behind ours: 100% pre-shrunk cotton perfection.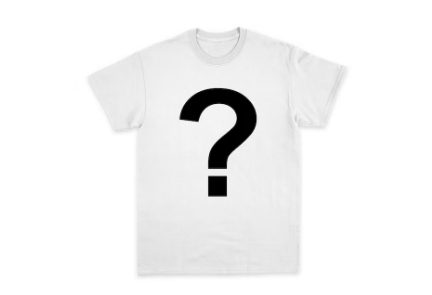 Can I get the design on the back of the shirt?
Sure, no problem! Just tick the box that says "Print on back?" next to the design before you click the button. There is no additional fee. If you would like designs on both sides of the shirt, this is considered a custom t-shirt order.
Why is my credit card being declined?
Absolutely the most common issue we see in this area is with the Address Verification System. For your security, the billing address you enter must match exactly what your bank has on file, even if that's not your current address or not the way you would normally write it. Especially if you have moved in the last six months, this is the first thing to check.
Declined Card Troubleshooting Checklist
Check your billing address.

Check that you have entered the card information correctly.

Try a different card.

Call us at +1(888) 687-4478.
In some cases, we may have additional information on the decline, but the bank does not always provide this. In some cases, we may direct you to call your bank for a resolution. In every case, we will work with you to the best of our ability hopefully until you are satisfied.
Do your product sizes run large or small?
Clothing sizes can be confusing and vary by manufacturer. Pick out a shirt you like that fits you well and use the size below to measure which of our styles best fits your needs:
What is your privacy policy?
Our only priority is making your shirts that you ordered and sending them to you as fast as possible. Your information is not used again after that transaction is complete, and you will never catch us selling your info to other companies. We...HATE...spammers.
How fast are your shipping and lead times?
US Residents:
International & Other Shipping:
US Residents:
We want our customers to be happy so they always come to us for all of their awesome t-shirt needs. This is why we strive to have the fastest shipping speed we can possibly provide. Generally, we send out orders within one business day of when they are placed. We do not ship any orders on weekends or USPS holidays. Although our shirts are made to order, our warehouse is kept fully stocked. On rare occasions lead times may be higher if we are restocking a particular design or shirt style. We like to think we have our shipping speeds down to a fine artform, and we would love to show you just how fast it really can be. If you need your order delivered to you in 1-3 days, we offer the 'Expedited' and 'Express' shipping options for this purpose.
AVAILABLE SHIPPING METHODS

| Shipping Method | Expected Timeframe1 |
| --- | --- |
| Standard | 3-8 Business Days |
| Military (APO/FPO/etc.) | 3-8 Business Days |
| Alaska/Hawaii | 5-10 Business Days |
| Outside of U.S. | 4-8 Weeks |
| Expedited | 2-3 Business Days |
| Express | 1-2 Business Days |
International & Other Shipping:
Are money orders acceptable?
Yes, US customers are eligible to send money orders. Bear in mind that expected shipping times cannot be honored as order processing cannot begin until the money order is received and processed. To order using a money order, follow the steps below.
What is the quality of the shirts like?
We know you want the best, and we are very pleased to say that we are the people to come to if that's what you're looking for. We may not be as cheap as some of the other t shirt companies, but our shirts aren't cheaply made. You may be trying our shirts for the very first time, and that's okay. We know you'll be back because no one else strives to make their customer base as happy as we do. We stand by our shirts with a 100% satisfaction guarantee.
SHAMROCK SKULL FASHION
$

19.00
Available in over 300 style, size, and color combinations. Choose Your Style, Size, and Color below then BUY NOW!
Is my payment secure against identity theft?
We only use well-known third-party payment processors such as Authorize.Net. We never store your credit card information or retain it for any length of time following your order. If for any reason you are uncomfortable ordering from us online, place your order over the phone by calling us toll free in the United States at +1(888) 687-4478 any time Monday through Friday, 9AM to 5PM Central Time. International callers please dial +1(731) 588-5690. We are not responsible for charges and do not accept collect calls.